See on Scoop.it – FrackInformant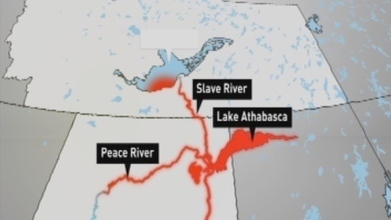 On Oct. 31, Sherritt International's Obed Mountain coal mine spilled about 1 billion litres of contaminated water into the Athabasca River. The mine is no longer operating. The spill happened when a retaining wall collapsed, unleashing the equivalent of about 400 Olympic-sized swimming pools of contaminated water.
The Alberta government says the contaminated water is now making its way through the Athabasca River and the Peace River. It should reach the Slave River and Great Slave Lake close to the beginning of December.
See on www.cbc.ca